KLRU has already wrapped up our winter drive! We cut 10 days from our drive—in exchange for less on-air fundraising, KLRU relies on year-end gifts to make up the difference and head into the new year strong and ready to go!
Fewer on-air interruptions = ✔️
Amount KLRU still needs to raise by December 31 = $50,000
Year end is an ideal time to make final financial contributions and set new goals for next year's giving. And that's why KLRU wants to encourage you to become a Sustaining Member this month. Sustaining members make the most impact simply because monthly donations allow KLRU to plan ahead, knowing we have a steady revenue stream.

Already a KLRU Sustainer? Consider increasing your monthly gift. Remember that your generous support is the backbone of this public television station. We would not exist with you.

The resources we extend into the community come from your donation power. Your gift of any amount allows KLRU to give back, reach out and create a space for thoughtful discussion. Central Texas is merry and bright this season because of viewers like you!
P.S. Anyone who becomes a Sustainer at ANY amount or increases their monthly gift this month will receive our KLRU Fan Kit, with KLRU decals, a koozie and more!
You can also grab the new KLRU baseball tee when you become a Sustaining Member at $10/month or make a one time gift of $120.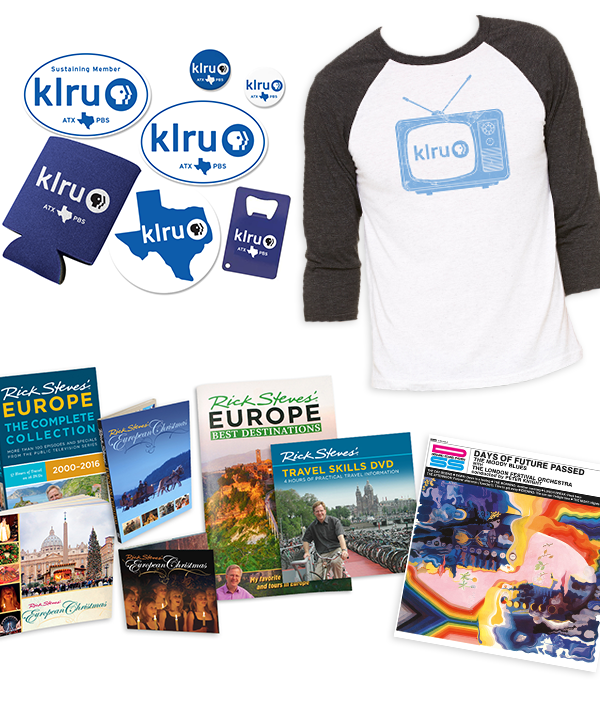 And it's LAST CHANCE for our winter drive thank you gifts. Donate now and receive your choice of thank you item—there are over 130 to choose from, including our popular KLRU Beatles tote, music from The Moody Blues, Rick Steves' Europe and more!