SparkTruck is an educational build-mobile sponsored by the PBS Kids Go! show Design Squad! The truck and its crew are traveling across the USA with cool 21st-century shop tools, spreading the fun of hands-on learning and encouraging kids to find their inner maker.
They will be visiting a number of elementary and middle schools during the week of August 27th through 31st and we have two open events that all informal educators and volunteers can join.
The first is on Tuesday, August 28th, when SparkTruck will be at IBM B/045 from 4:00 to 6:00 for you to experience the activities and talk with its staff.  You do not need to register for this event,  just join.  Please use the Domain Drive entrance off Braker and keep to the right on Domain Parkway.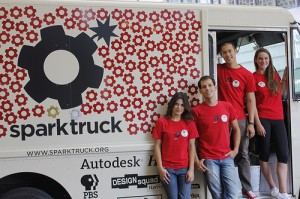 The second is on Thursday, August 30th (noon – 3 pm), when SparkTruck will be at the 3M Innovation Center for the Central Texas Discover Engineering kick-off for the 2012-2013 school year.  You need to register for this event.
Please join one or both events and have fun with hands-on learning!
The Spark Truck's local appearance is supported in part by The STEM Council at Skillpoint Alliance and Central Texas Discover Engineering.